Wang Xueli, born in 1992, from Shandong province, is the most active amateur female cyclist in China. Wang achieves lasting domination in both road and mountain biking events. She has participated several Nordic Ways events and won the champion in 2015 Changchun Jingyuetan Forest MTB Marathon. Also, in Genghis Khan MTB Adventure held in Xiwuqi, Inner Mongolia, she won the championship in 2014, 2nd in 2011 and 3rd in 2015.Before the race, we make an interview with her, to share her riding idea with everyone.
1.When did you begin to ride, participate in race and win your first champion? Just a brief introduction.
In 2008, riding occurred to me initially. I participated my first race in 2010 and won the champion in Xinshadao MTB XC race held on Aug 8th, 2010.
2.What kind of race appeals to you most? Why?
Id like to compete in the long distance and stage race. Compared to others, long-distance race is strict with physical performance and full of variables. You may face different challenges on every day. You may suffer from taking the wrong way, tire blowout and etc. Of course, besides self-power, chance plays an important role in the race. I enjoy the passion from uncertainty.
3.You made perfect performance in the road races as well. What do you think is the difference between road and mountain biking?
Mountain biking, is more free, comfort but wild. Stress comes with the rugged track. When you conquer the obstacle, you surpass yourself too. Road biking is more cool and serious. With high speed and adrenalin flowing, I prove myself to be the strong, not a weak woman. Hah.
4.Are you delighted with your performance in the first half of 2016?
I finished every race smoothly, that's beyond my expectations! These years, I devoted to have China-Chaoyang Tire well-known by more and more riders instead of pursuing the 1st place.
5.How do you make daily training? Did it come up to your expectations?
In fact, I have no time to train myself when the event season comes. Im in the race or going to race each day. I may say so, I take part in race instead of training. Only in winter, I make specific training plan. If interested in that, you can follow my Sina Weibo, 王学丽Shirley.
6.In your spare time, what would you like except riding?
I enjoy writing down my event experience as a memory. As well, Im addicted to cooking.
7.You came to Jingyuetan last year and won the championship. Would you like to share your experience?
I met my lover in Jingyuetan and rode the beautiful forest track on the rainy day. The long slope at skiing field left a deep impression on me. It seemed that I melt into my bike. After race, I received a lot of food from hospitable committee and talked happily with the medical staff as my friend got injured.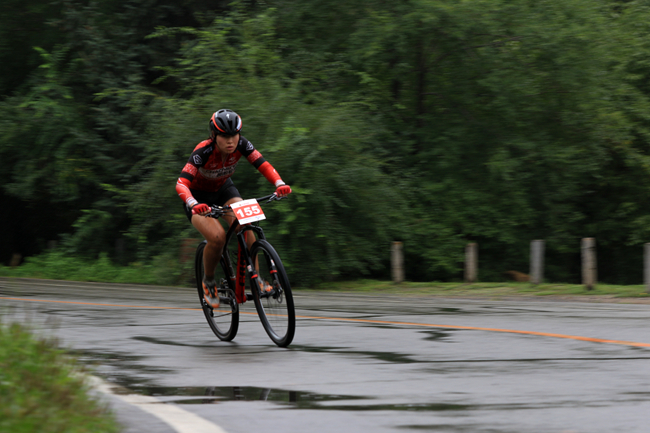 8.This August, you will come back to Jingyuetan. Are you ready to defend your title?
Er, I was lucky enough last year. This time I return to make up for the pity that last year I failed to tour Jingyuetan Park due to the heavy rain. When I talked about this, I felt upset. Whats more, I visited the Sun-Moon Lake this year and surprisingly found that Jingyuetan is the "sister" of her. I couldn't wait to return Jingyuetan! Well, Im a cyclist as well as a tourist. Hope that I can finish the race smoothly and for the championship, I WANT IT OF COURSE.
9. Please give some advices to other rides, especially the newcomers.
1 and a half or 2 hours before the race, make some supply but dont eat your fill as the start is intense, or youll feel sick. Bring some gels and bars to supply during the race.
At the start, youd better not be at the front. If you dont get locked, you are likely to fall down.
Prepare your equipment, such as helmet, gloves and etc. Ensure your bike has a good condition,especially tire pressure before race.
Thanks for Wang Xuelis sharing, wish her enjoy the MTB marathon.